Contact: Johnny Galyon, Head Coach Phone: 4235811600 Email:
Heather Kelley, Assistant Coach Phone: 4235811600 Email:
2017-18 LADY TROJAN BASKETBALL

2010 CLASS AAA STATE RUNNER UP
Congratulations 2016-17 Lady Trojans!!
Conference Regular Season Champs!
District Tournament Champs!
Region 1 Champs!
Sub-State Champs!
State Tournament Appearance for 4th Straight Year!
30-4 Record!!
Congratulations to the following 8th graders for making the 1st cut for the 2018-2019 Lady Trojan team!! There will be one more cut in the coming weeks.
Alona Ryans
Nina Lovelace
Hadlee Long
Hannah Edwards
Kelsey Kinley
Ava Yount
Zakira Shepard
Jakelin Hernandez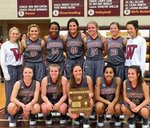 4th Straight State Tournament Appearance!!